By Francesca Claybrook
Guys, I'm really excited about this year's first designer spotlight.  Wendy Wong is an uber-talented designer who helms two fashion lines – Maison and Beatrice Holloway.  Maison is for girls who like to mix classic and trendy, while Beatrice Holloway is perfect for vintage lovers and Mad Men fanatics.  Keep reading to learn how she accidentally fell into fashion (she studied biology in college), what inspires her, and her tips for this season's big trends (and much more).  Then make sure to check out her websites (www.maisonclothing.com and www.beatriceholloway.com).
BellaVitaStyle: How did you get started in fashion?
Wendy Wong: I was always very interested in fashion throughout my youth but it was never anything I thought I would do.  I learned how to sew from my mom and as a hobby made my own clothes, and then while studying for my biology degree at the University of Toronto, I got a part time job as a receptionist at The International Academy of Design and Technology (a private design college). I found out that, as a perk of the job, I could take free courses. So, I immersed myself in design and pattern courses. But honestly, if it hadn't been for that job, I probably would never have gone into fashion. I come from a fairly traditional Chinese family where choosing an artsy career is definitely frowned upon.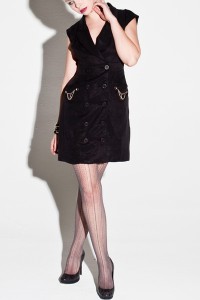 BVS: You have not one, but two lines!  Is it hard to manage both of them?  How do you do it?
WW: Major organization!  Yes, it's hard to manage both but I love designing both!  Maison lets me design sexy, edgy and sophisticated garments using luxurious fabrics and Beatrice Holloway lets me indulge my love of vintage.
BVS: What do you draw inspiration from for each of your lines?
WW: I would say that I draw inspiration from everywhere.  From architecture, to a vibrant sunset, vintage fabric and anything design related in other fields.  With BH of course, I just need to watch Mad Men!
BVS: What kind of girls do you envision wearing each one of your lines?
WW: The Maison girl is sexy, confident and stylish.  She effortlessly blends high and low fashion for a downtown look.  The BH customer is a feminine, vintage-loving gal that appreciates granny chic!
Both customers appreciate the little details that I put into my clothes.
BVS: Who are your five favorite designers?
WW: Marc Jacobs, Alexander McQueen, Balmain, Alice Temperley, Vivienne Westwood, I like designers that make clothes that are over the top!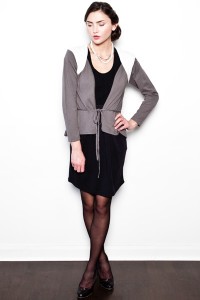 BVS: In your opinion, what are the six pieces every woman should have in her wardrobe?
WW:
1.       A drapey blazer
2.       A slouchy blouse that looks sexy tucked in or loose
3.       Skinny black pants
4.       A LBD that has great detail
5.       A dress in a color that pops – don't be afraid to wear color!
6.       A  jumpsuit – there is one to fit everyone, they're just so sexy
BVS: Which designer or celebrity's style do you admire the most?
WW: I really like Milla Jovovich and Kate Moss, they've always had a great eye for detailed pieces and a fondness for vintage – like me!
BVS: What trends do you think will be big this season?
WW: I think that color will come back strongly, good-bye camel!  Print and pattern mixing.  Boyfriend slouchy blouses and jackets in draped and silky fabrics.  Edgy, rock and roll a la Balmain has been strong for several seasons now, I think there will be a return to a softer, more feminine, yet sexy look.
BVS: What makes your lines different from other designers?
WW: The amount of thought and detail that goes into my clothing. Everything I design always has that little something that makes it special from the print, the details, the buttons I use.   Not only does it look good, but the clothes are made to transition from day to night and being a woman myself, I always take into account the woman's body when designing.
BVS: What has been the most fun part about being a designer?
WW: The best parts of designing are:
1.       Actually designing – and seeing the final product for the first time.  It feels great when sketch to sample looks as great in life as it does in your head!
2.       Seeing your clothes featured in Lucky and InStyle, and celebrity endorsements
3.       Traveling the world and getting inspiration from different cultures everywhere
BVS: Do you have any plans to expand into even more lines, or even into accessories, or are Maison and Beatrice Holloway enough for now?
WW: I've definitely been thinking about accessories, I think that's next up!
BVS: Where can we purchase your clothes?
WW: www.shophouseofspy.com