By Francesca Claybrook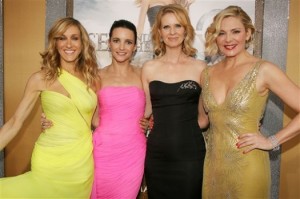 Sex and the City 2 premiered last night at New York's Radio City Music Hall, and all four leading ladies walked the silver carpet. But let's get right to the important stuff! Here's what they wore:
Sarah Jessica Parker – Neon yellow Valentino. I like it, especially for days like these when it's getting really warm outside. The color is very bright and cheerful and the dress looks like it would be a lot of fun to spin around in (ok, so sometimes I'm still 5 years old). It seems to me that SJP's red carpet choices usually earn her a bit of criticism, but I tend to like what she wears and this is no exception. Plus, I really like the one-shoulder thing that's happening on a lot of the red carpets recently.
Kim Cattrall – Gold, sparkly Naeem Khan. I think I'm the most iffy about this dress out of all of them. I'm not so sure about the sunburst pattern, although gold and shiny is definitely on trend this year. The look is Old Hollywood-y overall, but I still think it fell a little short. Maybe it's the color? Or the fit? I can't quite put my finger on it, but something's not quite right.
Kristin Davis – Hot pink vintage Jean Dresses. I think I love this dress. The rouching is absolutely gorgeous, and so is the color, which sets off her coloring perfectly. The cut also flatters her figure, which can occasionally look a touch bottom-heavy (in my opinion), emphasizing her waist and collarbone instead. A+.
Cynthia Nixon – Black Carolina Herrera. Stunning, simple, chic. I like the embellishment that was added after the dress was shown on the runway (I think – from what I can see, this bit of bling wasn't on the dress when it was shown, but I could be mistaken. Check here and let me know if you agree or not.) I like the look and the simple elegance, but compared with the others' dresses this is much more understated.
So my two best dressed are Kristin Davis and SJP, with Ms. Davis winning my vote by a slight margin. What about you?