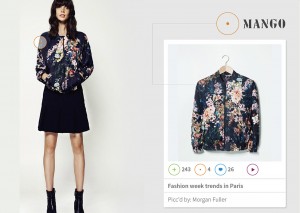 There's no doubt that we've become more of a visual society. Whether its scrolling Instagram, Twitter, Pinterest, or other forms of social media, I find that increasingly, that's where I get my ideas to curate my own personal style. How often do you find yourself in your Instagram feed coming across someone you follow in a great outfit or with a great piece of jewelry only left wondering how to get that item yourself?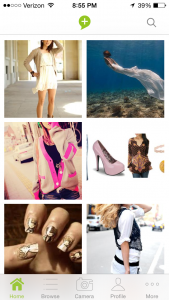 Well, there's an app for that. I've recently started to use Piccing, a free app that helps bridge the gap I just described. The easy interface allows you to browse photos by area of interest – my favorite categories are women's fashion, women's accessories and beauty, but there are other ones like food, travel, men's fashion, etc. Above is an actual screenshot of the app from my phone, based on my preferences. You can browse the photos of those in the community, and then click on little orange circles in the photo that mark items in the photo. A screen will then display with similar items that you can easily buy from your smart phone. Essentially, it allows you to shop within an image.
I've been using the app for several days now, and I've found that it's pretty addicting. It's been a great way for me to easily track down pieces of clothing and accessories that I'm interested in buying without doing the legwork. Instead, now I click on an item I love and the app takes me directly to the webpage that I can order it from.
There's also a social aspect. You can add your friends or find people with similar senses of style to follow, so that you can draw from their looks to curate yours. Download your app in the app store, and get piccing!
Cheap Prom Dresses

2014 Collection of

Prom Gowns

on Topwedding.com

Check out Apothica.com for all your beauty needs and brands like Too Faced Cosmetics!

The Latest

Fall in New York is my favorite time of year. The leaves […]

More

Bellavita Style- your source for all things fashion, beauty, and lifestyle.