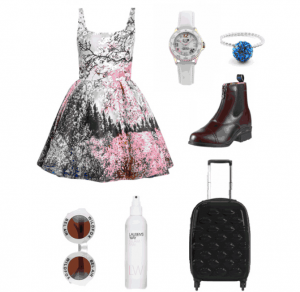 Above: Dress by Mary Katrantzou, Watch by 3HItalia, Ring by Gemleys, Ariat Boots from Edgemere, Sunglasses by Wildfox, Self tan by Lauren's Way, Lulu Guinness Suitcase at Case Luggage.
Winter weather not your cup of tea? Why not be spontaneous, book a last minute break and getaway somewhere beautiful and less bleak? How about the dazzling lights of Paris, the warm climes of Greece, or the romantic air of Italy? Wherever you go, you'll need a wardrobe suited to you destination that looks as fabulous as you feel.
Of course, it's all about the statement dress. This season legendary printwear designer is channelling pretty floral prints that are reminiscent of spring and summer weather – if you can't escape the cold weather, you may as well wear a beautiful summery print! You'll certainly brighten up other peoples' days.
Next you'll need to invest in a good pair of walking boots – that doesn't mean you have to wear hiking trainers, but wearing something practical will certainly help you see all the beautiful city sights. Why not try buying a pair of riding boots? These are comfortable, and the smart leather pairs look beautiful when paired with a dress and tights.
Of course, if you're jetting away you'll need some fashionable luggage too. We love the Lulu Guinness range at Case Luggage, and this petite, lip-print case is perfect for taking on as hand luggage. You'll be able to fit everything you need in it, and you'll know that anything fragile such as your laptop or camera will be safe in here, as this case features a hard shell.
If you need to pack light, just pack one or two dresses, but include plenty of accessories – that way you can mix and match to create multiple outfits. For example, a simple black dress can be paired with a printed kimono jacket and satchel one day, and the next day you could pair it with stilettos and a statement necklace for something entirely different.
Finally, make sure you pack a few beauty essentials – if you're heading out to a destination that's warmer than home, make sure you top up on fake tan so you have a holiday glow, even if you're only getting away for a few days. To keep your beauty bag light, try just packing a sheer but shimmering lipgloss and light skin make-up – try to achieve a natural glow rather than the celebrity look – you'll have more time to enjoy your break if you're not worried about your make-up!
Cheap Prom Dresses

2014 Collection of

Prom Gowns

on Topwedding.com

Check out Apothica.com for all your beauty needs and brands like Too Faced Cosmetics!

The Latest

Spring is just around the corner, and that makes us happy for […]

More

Bellavita Style- your source for all things fashion, beauty, and lifestyle.