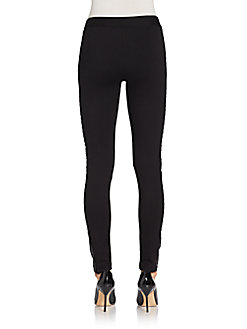 Piece 6: Black Ponte Cigarette Pants
One of the pieces that will pull together an entire look and take it from day to night is a slim cut pair of ponte pants. These pants have two benefits: they are sleek and look sophisticated, but feel like you are wearing a comfortable pair of leggings. You can wear these pants with a button down, a cami with a tank, a sweater — you name it. The ones pictured are from Saks Fifth Avenue and have a great tuxedo finish complete with studs, to make the look a little edgy. Link here.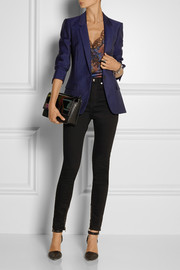 Piece 7: A Tailored Blazer
One cold-weather must have is a fitted blazer. Here's a piece you can have a little fun with. You can go with a solid color to wear on a regular basis, or for a colorful or bold print, to add some life to existing outfits. We love this Acne Studios blazer from Net-A-Porter, which instantly adds another dimension to jeans and a shirt or a pant outfit.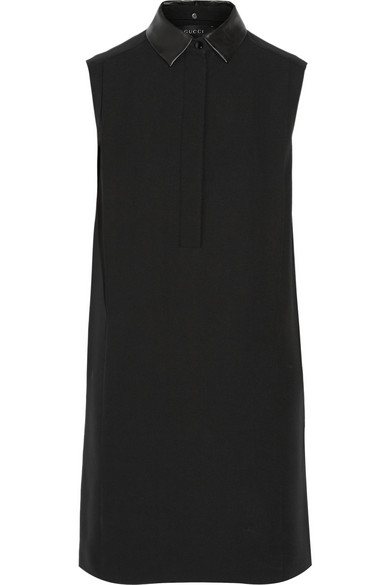 Piece 8: The Black Shift Dress
I have to say that this is the most essential piece for any wardrobe, and a piece I wear at least once a week, in all different ways. My coworkers would never guess that I'm recyclying the same dress by pairing it up in different ways. All you need is a sleeveless black dress and aforementioned pieces that are part of this post and the previous one. Take the Gucci dress pictured above, for instance. In the summer months, you can wear that on its own with a pair of pumps. Once the weather gets colder, however, the combinations are truly endless. I often pair a crisp, white button down with my shirt dress, and wear the button-down underneath the dress with the color sticking out. I also pair it with a silk button-down with a sweater layered on top of it. You can then add a colorful belt to spruce it up. This look also looks great with a blazer.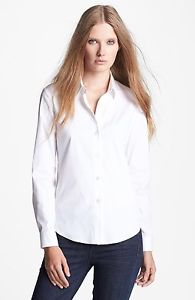 Piece 9: The Perfect White Dress Shirt
This is one of the most quintessential pieces every woman should own. Now, it will take some research. White dress shirts comes in all shapes and sizes and cuts, and the quality ranges from everything from Forever21 to Valentino. We suggest trying on a number of white shirts before committing to the one. And when we say committing, we mean it. This will be your go-to white shirt for the next dozen or so years. I'm so committed to mine, that I buy several at a time whenever it goes on sale since I will lose one or two a year to stains and wear and tear. For those new at this, a good middle of the range white shirt could be found at J. Crew. My shirt is the Theory Larissa 2 shirt, pictured above, which retails for $215 when it isn't on sale. (Hint: stock up when they go on sale)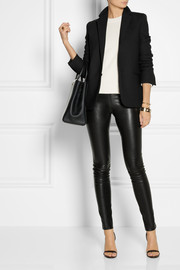 Piece 10: Leather Pants
Yes, this look is not for the faint of heart, and true disclosure, it doesn't look great on everyone's figure. But, if you have it, flaunt it. Leather pants are truly an investment piece, so be prepared to pay up for a great pair that will last you years. We love the look of the leather pants pictured above by The Row. Are they pricy at $1,950? Yes. But the cut is just perfect and it will be a great addition to your wardrobe and a great way to instantly vamp up some of your looks in your closet.
Cheap Prom Dresses

2014 Collection of

Prom Gowns

on Topwedding.com

Check out Apothica.com for all your beauty needs and brands like Too Faced Cosmetics!

The Latest

Piece 6: Black Ponte Cigarette Pants One of the pieces that will […]

More

Bellavita Style- your source for all things fashion, beauty, and lifestyle.