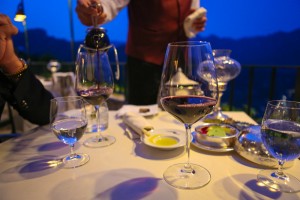 With only one day and one night in Ravello, we had to be very selective in where to eat. That meant making a beeline for Rossellinis (and by make a beeline, I mean making a reservation way in advance. This is not the type of place you can just roll up to).
Rossellinis is located in Palazzo Avino hotel (another 11th century palace, seriously, Ravello is spoiled with beautiful old palazzos) and after eating dinner there, it was clear why they have two Michelin stars.
The experience is formal, fine dining. The night turned stormy, so we sat inside the restaurant at a wonderful table looking out onto the terrace. The little touches were really profound. Each table had a figurine on it that added to the character of the restaurant. Tables also have a tiny couch for women to place their purses on so that our bags don't dare touch the floor. It is as if every one of your whims and fancies had been considered well before your arrival. The staff is just superb – friendly and very knowledgeable about their menu. We found that our waiter and the sommelier were very attentive and helpful in guiding our choices.
We had a modified tasting menu of sorts at Rossellinis, which allowed us to sample much of the region's standout dishes as well as Rossellinis famed offerings. Let's start at the very beginning, shall we? Once you sit down, we were greeted with a wonderful glass of champagne and one of the waiters will approach you with a giant tray of artisan breads and ask you to pick which ones you'd like to try. This tray was unbelievable with choices of whole grain, olive bread, focaccia, you name it. Normally, I skip the bread, but we were in Italy. Then, an amuse bouche was sent out which was immaculately presented almost so nicely that I felt bad eating it.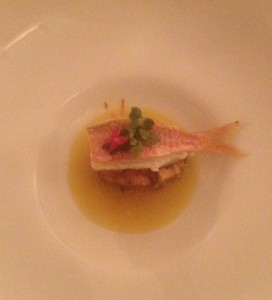 As a starter, I had a delicious amberjack fish dish (pictured above). Amberjack is a popular local white fish that is meaty in texture. It was absolutely divine and was paired with a soft cheese, which seemed unusual on the menu, but worked extremely well together.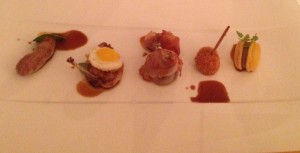 The boyfriend had quail served six ways, which just just stunning and delicious. It was served with dry fruit, as a macaron, with fried egg, etc. This was one of the most intricate and visually appealing dishes of the night.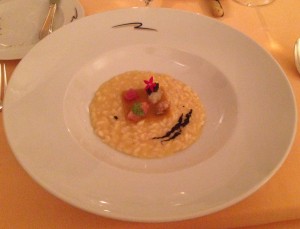 Between our appetizers and main courses, we shared a risotto. This is hands down the fanciest and best risotto I've ever had. In the center of both of our plates, there was a gelatin square that served as a pad for caviar, edible flower and other seafood. The rice was cooked just right and the flavored were spot on.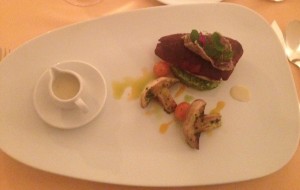 For my main dish, I opted for grilled John Dory fish with goat cheese and green chili peppers. The fish was cooked perfectly and was white and flaky. It came with sautéed tomatoes that added some sweetness to the herbs.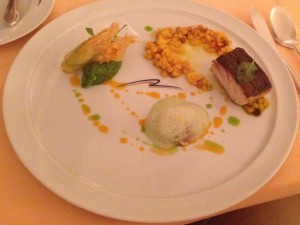 The boy had a bacon and basil crusted white fish that was packed with tons of flavor. It had a tasy foam that went wit as well.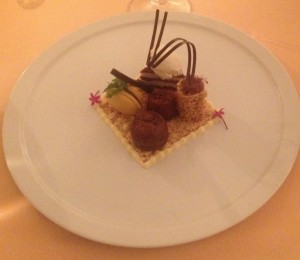 Dessert was also a show stopper. Normally, after consuming 10,000 calories in on sitting I would skip dessert. But, hey, I was in one of the nicest restaurants in all of Italy.we had a sampling of macarons, chocolate cake, sorbet and other goodies.
If you are looking for a dinner in the Amalfi Coast where you want to pull all the stops, this is it. Rosselini's is fine dining at its best. The menu is curated in such a way that you can sample all of the flavor a from the region, and the attention to detail regarding presentation and service is just unmatched. Some tips: make sure to make a reservation well in advance, splurge for the wine pairings, consider the tasting menu, and most importantly– come hungry!
Cheap Prom Dresses

2014 Collection of

Prom Gowns

on Topwedding.com

Check out Apothica.com for all your beauty needs and brands like Too Faced Cosmetics!

The Latest

With only one day and one night in Ravello, we had to […]

More

Bellavita Style- your source for all things fashion, beauty, and lifestyle.