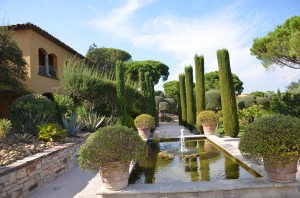 Recently, my boyfriend and I were fortunate to spend nearly three weeks traveling around Europe and taking in some of the most beautiful sites. After countless photos, amazing meals, breathtaking views and a little too much rose, I'm sharing our best experiences with you, so that you'll have a go-to guide on what to do, see and where to stay on your next trips. First, we start with the South of France's beautiful St. Tropez, where we stayed at the gorgeous Hotel Villa Marie resort.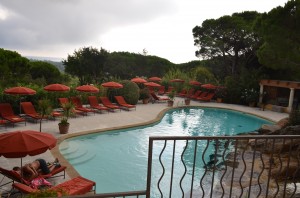 First, a little about St. Tropez. This glitzy area of the French Riviera is known for glamour, yachts and the rich and famous. It is luxury on steroids and draws huge crowds especially during the summer months because of its great climate and beautiful beaches. Tucked away in St. Tropez is a hidden gem called Hotel Villa Marie. A five minute car ride down to the main stretch of beach, this hotel resides just up a small mountain surrounded by the most gorgeous plants and pine trees you will ever see. The resort, which resembles an Italian villa, has the best of both worlds. From its pool, you can view the yachts sailing on the Bay of Pampelonne while taking in the serenity and beauty of the resort. You can take the resort's shuttle to St. Tropez's main village or the beach and restaurants as well.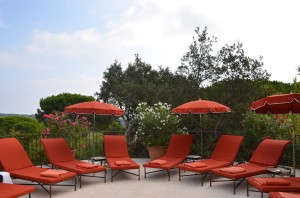 We stayed in Hotel Villa Marie for two nights in September and had a wonderful experience. The staff is very friendly and accommodating and the hotel's aesthetic really caters to a luxury experience. The amount of attention the staff and owners pay to detail here is palpable, be it the color scheme they have chosen, the mix of brightly-colored flowers and groomed trees, or the small details that go a long way.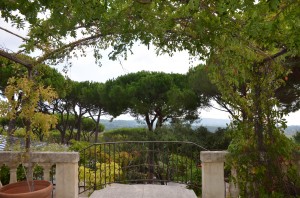 The resort is in the middle of seven acres of pine trees and while laying by the pool, you could hear roosters crowing and water flowing which created as serene an atmosphere as it was beautiful. We spent much of the first day sunbathing by the pool and swimming while taking in the views. The hotel has a restaurant on its premises where we had lunch and some wine that was just delightful.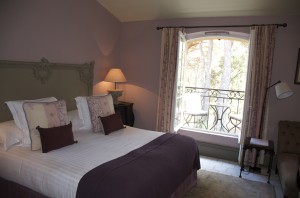 We had a great room with the most comfortable bed and a beautiful terrace that opened up to pool and ocean views as well as the brightly-colored flowers and pine tress on the grounds. I wrote much of this review from the cozy table and chairs on our terrace while taking the scenery in. One of the highlights of the room for me was the standalone vintage bathtub which was equipped with relaxing bath salts and an eye mask. The rooms also had a shower if you prefer to bathe that way. I really appreciated how the hotel took pains to provide the most updated fixtures and amenities while somehow preserving the integrity of the decor and architectural design of the building.
The hotel is just the right size– just 45 rooms — so that the premises are lively but not at all overrun or crowded. We found it simple to get lounge chairs by the pool or a table with a great view at lunch or dinner. The hotel was a 3-star hotel in its prior life until Maisons & Hotels Sibuet bought the property in 2003 and upgraded it.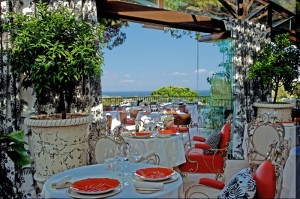 Now, let's get to the food. Weeks and countless desserts later, my boyfriend and I are STILL talking about the dessert we had at Villa Marie's restaurant, Dolce Vita. We will get to that in a bit. Our first night at the hotel, we dined at the hotel's restaurant, which is worth visiting even if you aren't staying at the hotel. We sat outside under a beautiful full moon eating by candlelight. The experience was very romantic and the food itself was just as pleasing. We arrived just in time for the sun to begin to set and we had a rose aperitif as the sky changed to colors of orange and bright pink and purple.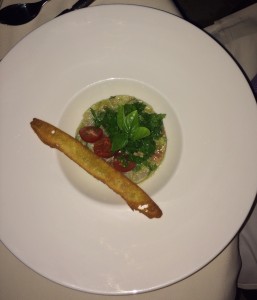 I started with a wonderful risotto with a light, cheese sauce with asparagus and summer truffles. My boyfriend opted for the seafood ceviche (pictured above) which he said is the best he's ever had. It is made with gilt-head bream, ceviche style with cubes of avocado and crabmeat.
For our mains, I had a perfectly cook filet of sole fish and he opted for the roast filet of beef that had an amazing crust made of basil and pine nuts. The entrees were presented beautifully, and the flavors of each worked very well together. I stuck with the house rosé, which is a must if you visit.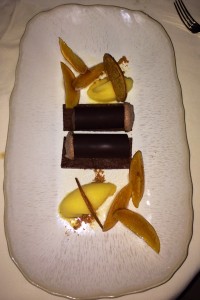 Lastly, the aforementioned dessert. Full disclosure: everything out of the kitchen looked amazing, but I think we chose the best of the best. We ordered a chocolate and orange dessert for two that incorporated rich, dark chocolate and a chocolate mousse of sorts with caramelized oranges and an orange sorbet. The flavors complemented each other so well with the tart and sweet balancing each other out. The dessert was giant, and we were both skeptical we'd be able to finish it when it was presented to us, but we pretty much licked the plate clean.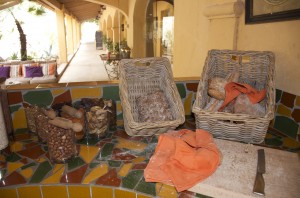 Each morning we indulged in a delicious breakfast that was a mix of buffet and custom orders. We ate outdoors on a terrace overlooking the hotel while munching on fresh figs, cheeses, yogurt and pastries. We especially loved the area where you could order up omelets, scrambled eggs, waffles and even crepes.
Other details that we loved: the hotel has a gym overlooking the pool that is open 24 hours a day. There is also a lovely spa on the premises with a truly impressive spa menu of treatments ranging from full body massages to facials.
Our suggestions on what to do in the area: Club 55, an exclusive beach club and restaurant, is just a ten minute drive from Villa Marie. Nikki Beach St. Tropez is in the same area and has great sunbeds and a party atmosphere (post to come.) The village of St. Tropez has some wonderful shopping — while we were there a pop-up Chanel was in the main square in an old mansion. Walk by the Port to take in the massive yachts and seaside restaurants.
One thing to keep in mind that is true of all of St. Tropez — cabs are very expensive (40 euro just to go a few miles) so it may make sense to rent a car during your stay to drive to the beach and other restaurants.
Cheap Prom Dresses

2014 Collection of

Prom Gowns

on Topwedding.com

Check out Apothica.com for all your beauty needs and brands like Too Faced Cosmetics!

The Latest

We all have that friend who is seemingly on the road more […]

More

Bellavita Style- your source for all things fashion, beauty, and lifestyle.